Connect your phone. Fasten your seatbelt.
Bring your Android phone to your nearest Hyundai Dealer for a test drive and experience the effortless convenience and capability of this innovative feature.
Here's where your apps really get mobile.
Imagine a car that's as easy to use as your phone. Just connect your Android™ phone and you're ready to go.
Compatible with phones running Android Lollipop and newer.

Voice Control

Calls & Messages

Navigation

Your Music
Talk to Google™ and keep your hands on the wheel
Android Auto is designed especially for your driving needs and features Talk to Google. It also works with your vehicle's buttons or touchscreen. And the apps you want to use in the car have been made intuitive so you can use them while your eyes and hands stay where they belong.
Apps on the road.
Whether you're going around the block or on an epic road trip, Android Auto makes it easy to access your select apps and content in the car.

Click on an app to learn more.

iHeartRadio

Google Play Music

Spotify

Kik

Stitcher Radio

nextPlus

Pocket Casts

Threema

TextMe

NPR

TuneIn

Slacker Radio
Android, Android Auto, Google, Google Play and other marks are trademarks of Google Inc.
Better driving through technology.
Sonata was the first car with Android Auto and now it's available on the 2017 Elantra. As Hyundai adds more models to the list, the competitive advantages and owner benefits of our technology story grow. The safety of available Blind Spot Detection and the convenience of an available hands-free smart trunk are two great examples. Take a look at all of the innovations and you'll see a long list of smart reasons to choose a Hyundai.
Legal
Android Auto is currently available in the 2015 Sonata with navigation. The compatible navigation system with 8-inch touchscreen display is available on the 2015 Sonata Sport, Eco, Limited, 2.0T and Limited 2.0T models. Android Auto is standard on 2016 Sonata SE, Sport, Sport 2.0T, Eco, Limited and Limited 2.0T. Not currently available on Hybrid or Plug-in Hybrid models. Android Auto is available on 2017 Elantra with display audio or navigation.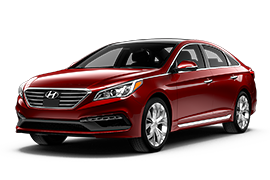 2015 Sonata
With Navigation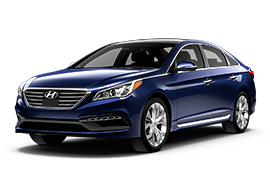 2016 Sonata
With Display Audio or Navigation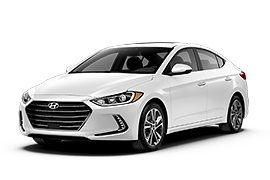 2017 Elantra
With Display Audio or Navigation